Mr. Jack Hartpence
English, AB 2005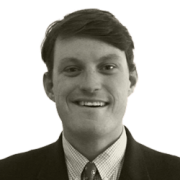 My freshman and sophomore years at UGA, I struggled as an economics major. I felt like a sheep out to pasture (my pasture being pre-business lecture halls), and sensed that the lack of creativity or individuality I felt in the classroom was rotting my intellectual curiosity. During winter break of 2012, my sophomore year, I traveled to South America where I had been selected to intern in Guayaquil, Ecuador for one of the largest food & beverage companies in the region. My hope was that this work experience would help me to regain what was a lost inspiration for business. Instead, I walked away with a new perspective. My mentor in Ecuador, Danielito, gave me a piece of advice that forever changed my life: "you only go to college once. Study what you enjoy, master a skill, and take that passion with you into the game of life."
 
Danielito's advice was the push I needed. I came back to Athens and immediately switched my major to English, a subject that allowed me to think creatively. While many of my peers were continuing with their business classes, I was excited to master the art of written and oral articulation. My Professors in the English Department were not only engaging, but they pushed me beyond my creative means. With diverse thoughts and backgrounds amongst my peers, the constant debate in the classroom gave me a newfound vigor. I grew as not only a student, but also as a human being. This decision, largely built on a gut feeling, has proven to be one of the best decisions of my life. 
 
Fast-forward two years, during my senior year I took 18th Century British Literature with Dr. Kraft, as well as Digital Humanities with Dr. Steger. I decided to combine my work in both courses by applying my findings on the Libertine's role in the 18th Century Stage as my case study for my Digital Humanities final project. It ended up winning best work in Digital Humanities at graduation! From there I was recruited into a Presidential Campaign's War-Room. 
 
In Park Hall, I gained the confidence to think differently. This has positively propelled me to be my best self, whether it be finding the courage to break away from the norm and build a company that reflects my worldview (Powwater), speaking on a social entrepreneurship panel at the United Nations General Assembly, or working in the field throughout Africa and South Asia where we have brought over 80,000 people sustainable safe drinking water solutions. As I look back at what I have accomplished and where I am going next, I am incredibly lucky to have taken the passion I found for class in Park Hall with me into every facet of my life. Words can't describe the deep gratitude and appreciation I will forever hold for all of my fellow classmates and faculty who pushed me to find my inner voice. 
 
Ms. Stephanie Stuckey
French, AB '88;  JD, Law '92
Stuckey's roadside convenience store chain has been on America's highways since its founding in 1937, today with 70 locations in 17 states. Like so many retail operations, its business has been challenged as a result of the coronavirus pandemic. But led by President and CEO Stephanie Stuckey (AB, '88, JD, '92), Stuckey's is supporting the men and women who drive trucks and keep America - and Stuckey's - going during these tough times. The company been working with Truckers Emergency Assistance Responders to provide snacks for the truckers' gift bags they're assembling that also includes face masks, hand sanitizer, and gloves.
"Stuckey's wanted to do our part to help others during the COVID-19 pandemic, and it made sense for us to partner with truckers as we're on the interstate highway system and interact with the trucking population on a daily basis," Stephanie Stuckey said, via email. "I did some research into what organizations are providing trucker relief and connected with TEAR. Desiree Wood, their founder, is a trucker herself and knows first-hand the challenges they face.  We love partnering with an organization founded by truckers that's working for truckers."
Over the 80+ years Stuckey's has been in operation, the distribution of goods by trucks, and perhaps even the life of truckers themselves, has undergone significant changes, to which the chain has been a significant witness and partner, as it continues to be today.
"Stuckey's used to own and operate our own fleet of trucks, but our company fell out of family hands for almost two decades and lost control of our trucking," said Stuckey, noting that the company now uses a local trucking firm based in Dodge County, Georgia. "From our standpoint, routing and freight management has become much more data-driven with advances in technology, which has increased efficiencies in our operations. But challenges remain with driver shortages and safety issues. I hear from the trucking community that the long hours and lack of safe, reliable places to park their trucks for rests is high on their list of concerns. Thanks to our engagement with TEAR for this COVID-19 relief effort, Stuckey's will remain involved with these issues and continue to advocate for truckers' rights."
The spirit of community around all essential workers in the American economy is inspiring and vital. We are grateful for Stuckey's vision and commitment to truckers, the leadership of its president, and very proud of her UGA roots. Finding ways to support more of our fellow citizens reinforces the strength and resilience of our interconnectedness. 
Capt. Mark Gabriel
History, AB '75
Capt. Mark D. Gabriel is a AB History alumni. Dr. Thomas was my mail mentor. Class of 1975. I was the former UGA Captain of the wrestling team. After graduation I spent 10 years in the USMC as a Captain & 6 mos in the FBI. Then I went to WALL street and am sill there. 45 years later I am Chairman & CEO of Veterans Invesment Advisors Corporation 230 Park Avenue Suite 900 NYC , NY . Our purpose is to donate money 💰 to the disabled veterans in ou country. Ther are 30 disabled veterans that commit suicide everyday. We will fix that problem. My greatest class was about Russian history & Chinese history. We plan on being one of the largest donor to our history department in 2021. Semper Fi Capt. Mark Gabriel a SERVICE DISABLED MARINE OFFICER class of 75. We are hiring in 2021. Go DAWGS!
 
Dr. Georgia Carole Watterson Troxler
History, AB '64
I was in the first crop (1960) of the Honors Program and entered the University as a history major -- never any doubt. Dr. C. Jay Smith taught the first history course I took and also some others. I always credited him for "getting" me the Woodrow Wilson Fellowship when I graduated 1964, and I benefitted as well from Dr. Lothar Tresp, who took over the HP directorship and taught me medieval European history. As a result of taking Dr. Robert MacPherson's Tudor England course, I steered myself to history of England, in which I earned MA and PhD at Univ of NC. My plans for returning to Georgia were blocked by the fact that I married a fellow grad student, an only child with older-than-usual parents, so we stayed close to them. I taught at Elon College/Elon University 1970-2003 and we reared two strong women here, a lovely place to bring up children. My publication field is late colonial and revolutionary era, having bloomed where I was planted and seeing all that as British anyway. I also have made a needed impact in the history of our county, (Alamance). Also Maritime Canada and Bahamas in revolutionary era.
M. Anne Albright
Computer Science, BS '81
Bethesda, MD

Why I give
The University of Georgia provided me with a well rounded, liberal arts foundation and the Computer Science Department provided me with the analytical thinking which enabled me to have a successful 33 year career with IBM. I was success­ful doing everything from product testing to project management to sales. The technology industry needs more broad thinkers and I want to help those who choose a Computer Science major at UGA to contrib­ute their skills and talent to the world.
 
Marty Hahn
Computer Science, BS '84
Suwanee, GA

Why I give 
My computer science instructors at UGA were encouraging and engaging. Using my contacts in Computer Science, I started my first job as a devel­oper in Athens my junior year. I was fortunate to find encouragement from my instructors and small busi­ness to start my company. When I was approached by Franklin College about donating to support UGA, I agreed without hesitation and requested that it be earmarked to assist computer science students.