About this Degree
The AB in Interdisciplinary Art & Design exposes students to a variety of media and techniques associated with studio art disciplines, yet has the flexibility to build a cross-disciplinary degree program with more elective coursework outside of Art. Students pursuing the A.B. will understand the non-verbal language of art and design in terms of artistic principles and application, will be able to organize visual elements both rationally and intuitively according to understood artistic principles, and will become familiar with the major achievements in the history of art and visual culture. This program was formerly called AB Studio Art.
What you will learn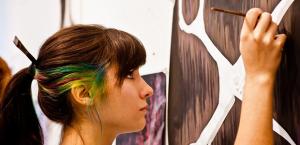 In concert with this exploration, students are encouraged to add focus to their studies to ensure appropriate rigor and disciplinary depth. The AB Interdisciplinary Art & Design program involves studio and art history courses, while also providing a liberal arts curriculum including foreign language, literature, physical and biological sciences, and electives.
Many students who wish to double major with degrees in other majors, Schools, and Colleges may choose the AB Interdisciplinary Art & Design program because it allows the flexibility of overlapping degree requirements.
Other Academic Information
Student Organizations
Employment Information

Possible Job Titles

Possible Job Titles:

Art majors enter the profession to pursue both fine art practice and applied art in business as well as in education and graduate study. Students are prepared for work in technical as well as creative areas of art and design. Each specialization offers a variety of employment opportunities in areas ranging from mass communications to the service industries.

Account Executive
Advertising Artist
Appraiser
Architectural Model Maker Archivist
Antiques Dealer Art Administrator
Art and Design Professor
Art Buyer
Art Consultant
Art Critic
Art Dealer
Art Director
Art Historian
Art Restorer
Art Teacher
Art Therapist
Artist's Agent
Assistant Curator
Calligrapher
Cartoonist
Ceramic Artist
Color Expert
Costume and Mask Designer
Creative Services Manager
Exhibition Coordinator
Fashion Artist/Designer
Foundry Artist
Furniture Designer
Gallery Owner
Glass Blower
Illustrator
Interior Designer
Jewelry Designer
Kitchenware Designer
Label Designer
Layout Artist
Mannequin Decorator
Mechanical &Production Artist
Motion Picture Animator
Muralist
Paper Maker
Photographer
Photojournalist
Printing Designer
Product Designer/Illustrator
Quick Sketch Artist
Set Designer/Illustrator
Sculptor
Stained Glass Artist
Stone Carver
Toy Designer
Web Designer

Employers

Employers:

Students graduating from this program will possess the skill and ability to think creatively and solve practical problems visually and conceptually. They will also acquire the confidence and the desire to approach new technologies with creative perspectives. This degree will prepare the students to be professional artists or further their education into graduate school.

Recent Employers

Atlanta Journal-Constitution
Athens Magazine
Awaken the Arts!
BBDO Atlanta
Booth Western Art Museum
burton + Burton
Creative Marketing and Associates
FanDriveMedia
Hatch Snow Print
High Hirsch Bedner Associates
Mohawk Home
Morris Museum of Art
NCI
NKP Media
Pier 59 Studios
Renewal Design Build
Roswell Visual Arts Center
Southeastern Louisiana University
Starz Entertainment
Teach for America
Thrasher Photography & Design
WonderRoot
Young Athenians
ZoomWorks