About this Degree
The UGA Department of Dance offers the degrees Bachelor of Arts and Bachelor of Fine Arts in Dance. Students have the option of earning Teacher Certification along with the degrees in Dance. The
program of study is a comprehensive dance curriculum with professional training in contemporary dance and ballet. Jazz, tap and ballroom dance classes are also offered. Coursework in dance explores the technical, stylistic , historical, analytical, and cultural aspects of dance with an emphasis on performance. Students explore, experiment and develop personal creativity and artistry
What you will learn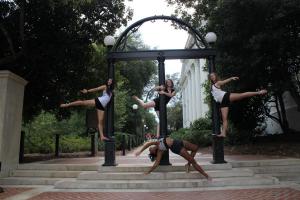 The B.F.A. in Dance is grounded in studio courses in dance technique, with a 32 semester hour requirement in ballet and contemporary dance and additional requirements in jazz, tap, improvisation, and alternate forms. In the completion of technique courses, B.F.A. candidates must attain levels of performance higher than the levels required of candidates of the A.B. in Dance. Complementing the B.F.A. program's technique component are the requirement of four semesters of membership in one of the department's pre-professional performance companies, and a range of courses which employ dance as a vehicle for study of the human body, the creative process, musical form, the history of world cultures, psychology, educational theory and practice, and technical design for the stage and for multi-media formats. The curriculum enables dancers to develop technical proficiency and choreographic ability; gain experience in performance, production, and teaching; explore the scientific, philosophical, and historical foundations of dance; consider the relationship of dance to other art forms; experience the power of dance as an educational tool; and encounter dance as a total theatre experience.
Other Academic Information
Employment Information

Possible Job Titles

Possible Job Titles:

Artist-in-Residence
Arts Council Director
Ballet Mistress/Master
Booking Agent
Choreographer
Choreography
College Professor
Community Dance Worker
Company Dancer
Costume Designer
Critic
Dance Notator
Dance Teacher
Dance Therapist/Movement Therapist
Editor
Equipment Support Technician
Event Planner
Financial Manager
Fundraiser
Journalist
Leisure & Recreation Instructor
Performer
Pilates/Conditioning Instructor
Professional Dancer
Public Relations Manager
Rehearsal Director
Screenwriter
Stage Manager
Studio Owner
 

Employers

Employers:

The B.F.A. program in dance prepares its graduates to pursue careers as performers and choreographers for the concert and theater stage and for film, video and other media; dance educators in schools K-12; teachers in and owners of private studios; arts administrators and advocates; and dance therapists. The program instills in its graduates a resourcefulness which assists them in creating for themselves a means of livelihood in the economically challenging field of dance.

Students wishing to teach dance in Georgia's public and other accredited schools grades K-12 must complete the 120 semester-hour degree program along with an additional 9 semester hours of coursework in education and a 12 semester-hour student teaching experience. The B.F.A. program, along with the 21 semester hours noted above, fulfill all requirements within certification guidelines established by the Department of Education for the State of Georgia. Students from outside Georgia who wish to teach in the schools of their home states find that certification requirements vary little from state to state.

Recent Employers

Advertising Agencies
Alvin Ailey American Dance Theatre
Amusement/Theme Parks
Arts Councils
Bravo Dance Center Inc.
Center for American Dance Inc.
Center Stage Dance Company Georgia
Dance Conservatory Inc.
Touring Companies
Colleges & Universities
Cruise Lines
Dance Cavise Inc.
Dance New Amsterdam Inc.
Dance Spirit
Dance Theater of Harlem Inc.
Performing Arts Centers
Discovery Programs Inc.
Front & Center for Performing Horneff
Robin Performing Arts
University Theatre/Dance Groups
Macfadden Performing Arts Media, LLC
New Jersey Ballet Company Inc.
Opus Dance Theatre & Community
Parsons Dance Foundation Inc.
Playwrights Horizons Inc.
Television Networks
Xoregos Performing Co.
 
Other Relevant Information

Research

Accreditation

Accreditation:

The degrees in dance at the University of Georgia Department of Dance are accredited by the National Association of Schools of Dance.