About this Degree
Cognitive science is an emerging new science of mind and intelligent processes in humans, animals, computers, and in the abstract. The field spans a wide variety of standard disciplines including psychology, computer science, anthropology, linguistics, biology, and education. Cognitive science is expected to play a large role in the development of the technologies, training, and intervention programs of the twenty-first century. The curriculum of this interdisciplinary major includes courses in major areas including artificial intelligence, psychological foundations, language and cultural foundations, and philosophical foundations.
What you will learn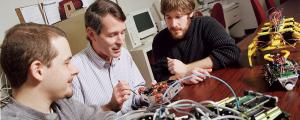 The AB in Cognitive Science is a demanding interdisciplinary program. In the major-related core, students take lower-level classes in computer science, linguistics, philosophy, psychology, and statistics. At the upper-division level, all majors take courses in Cognitive Science (ARTI/PHIL/PSYC 3550), Cognitive Psychology (PSYC 4100) and choose between either Artificial Intelligence (CSCI/PHIL 4550) or Generative Syntax (ENGL/LING 3150). After being exposed to a wide range of interdisciplinary classes, students then focus in on two (or more) of our four areas of concentration: Artificial Intelligence Foundations, Philosophical Foundations, Psychological Foundations, and Language and Culture (Linguistics and Anthropology). Majors must take five classes across these subject areas, with at least two classes in two different areas.
A previous student wrote a compelling exit essay about her experience with the Cognitive Science Degree from UGA. It's worth a read.
Other Academic Information

Other Degrees/Programs Offered:

The Institute for Artificial Intelligence participates in two combined undergraduate/graduate programs

Computer Science BS+Artificial Intelligence MS
Cognitive Science AB+Artificial Intelligence MS

In the programs, students are allowed to use 12 graduate credit hours towards both degrees. In both cases, the two degrees are intended to be completed within 5 years. 

Click here for more information. 
Scholarship and Award Information

Several undergraduate scholarship and award opportunities are available at the University of Georgia.
Student Organizations
Employment Information

Possible Job Titles

Possible Job Titles:

A cognitive science major is preferable preparation for students who plan to go on to graduate programs in cognitive science, educational technology, artificial intelligence, instructional psychology, cognitive psychology, cognitive philosophy, or cognitive neuroscience. Cognitive science A.B. holders typically find themselves employed in technology-related positions demanding excellent technical, writing, and speaking skills.

Business Analyst
Clinical Trial Manager
Computer Programmer
Computational Linguist
Counselor
Developer
Educator
Ergonomist
FBI/CIA Agent
Human Factors
Engineer
Human Resources
Industrial Psychologist
Intelligence Analyst
Intelligence Specialist
IT Support Specialist
Linguist
Market Analyst
Mobile Designer
Psychologist
Research Analyst
Research Coordinator
Research Technician
Sales Manager
Software
Programmer
Speech Pathologist
Social Scientist
Technology Administrator
User Experience Designer
Web Developer
Web Producer
 

Employers

Employers:

Possible Employers

| | |
| --- | --- |
| Airwatch | Peace Corps |
| AT&T | Puppet Labs |
| Amazon | Qualcomm |
| Apple | Scantron |
| Cisco | Scientific Games |
| CyberCoders | Siemens |
| Electronic Arts | SiteCrafting, Inc. |
| Eli Lilly | Strayer University |
| Facebook | Symantic Corporation |
| Google | Teach for America |
| Government Agencies | University of Georgia |
| Hewlett-Packard | University of Virginia |
| Hitachi Consulting | Verizon |
| IBM | UPS |
| McAfee | US Army |
| Microsoft | US Marines |
| Oracle | Yahoo |