About this Degree
The fields of biological and medical illustration, collectively known as Scientific Illustration, use artwork as visual tools of communication solely for the service of education.
The production of illustrations of measured accuracy, conceptualized illustrations and diagrammatic illustrations are created to enable communication between scientist and author, teacher and student, or physician and patient. An artist must, therefore, be aware of the viewer's level of knowledge and relate the message in a logical sequence without confusing the viewer with too much or too little information. Because they communicate subtleties and eliminate ambiguities of language, scientific illustrations are an important, often necessary, element in precise communication in scientific education.
What you will learn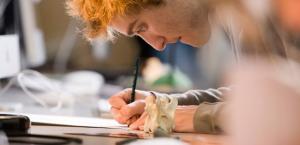 Students should have an interest in the fields of Science and Art and have the desire to learn how to communicate multiple subjects, theories, and procedures in the many areas of science. Students should be able to work well with others, maintain a professional relationship and have the self-discipline to work long hours, under short deadlines, while accepting direction and criticism from instructors, art directors or clients. Students should have a strong eye for observation and communication. They must have a desire to learn from research and verbal communication for a complete and thorough understanding of scientific content. Students in this field should have the ability to illustrate, in fine detail, exactly what they see, and to work within the guidelines specified by the objective as stated by the client.
Other Academic Information
Student Organizations
Employment Information

Possible Job Titles

Possible Job Titles:

Art majors enter the profession to pursue both fine art practice and applied art in business as well as in education and graduate study. Students are prepared for work in technical as well as creative areas of art and design. Each specialization offers a variety of employment opportunities in areas ranging from mass communications to the service industries.

Account Executive
Advertising Artist
Appraiser
Architectural Model Maker Archivist
Antiques Dealer Art Administrator
Art and Design Professor
Art Buyer
Art Consultant
Art Critic
Art Dealer
Art Director
Art Historian
Art Restorer
Art Teacher
Art Therapist
Artist's Agent
Assistant Curator
Calligrapher
Cartoonist
Ceramic Artist
Color Expert
Costume and Mask Designer
Creative Services Manager
Exhibition Coordinator
Fashion Artist/Designer
Foundry Artist
Furniture Designer
Gallery Owner
Glass Blower
Illustrator
Interior Designer
Jewelry Designer
Kitchenware Designer
Label Designer
Layout Artist
Mannequin Decorator
Mechanical &Production Artist
Motion Picture Animator
Muralist
Paper Maker
Photographer
Photojournalist
Printing Designer
Product Designer/Illustrator
Quick Sketch Artist
Set Designer/Illustrator
Sculptor
Stained Glass Artist
Stone Carver
Toy Designer
Web Designer

Employers

Employers:

Positions available for a natural science or medical illustrator may range from working alone to being a member of a large production unit. There is potential for employment in universities or medical schools with science departments having especially strong teaching and research programs, scientific and medical research centers, hospitals, clinics, dental and veterinary schools and museums of scientific history and learning such as the Smithsonian Institution. Many illustrators pursue 'self contract' commercial markets, creating illustrations for publishing, pharmaceutical and advertising agencies or clients such as physicians and attorneys or others who have a need of visual aids for science and medical education.

Recent Employers

Atlanta Journal-Constitution
Athens Magazine
Awaken the Arts!
BBDO Atlanta
Booth Western Art Museum
burton + Burton
Creative Marketing and Associates
FanDriveMedia
Hatch Snow Print
High Hirsch Bedner Associates
Mohawk Home
Morris Museum of Art
NCI
NKP Media
Pier 59 Studios
Renewal Design Build
Roswell Visual Arts Center
Southeastern Louisiana University
Starz Entertainment
Teach for America
Thrasher Photography & Design
WonderRoot
Young Athenians
ZoomWorks
Other Relevant Information

Research

General Research Information:

Please provide a general description of your research.