About this Degree
The BFA program at The University of Georgia in Jewelry and Metalwork is an inclusive program of study which provides students the opportunity to explore and develop technical competencies and conceptual directions within the arena of contemporary jewelry and metalwork.  
What you will learn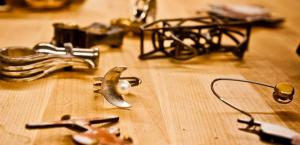 Students in the program will develop an understanding in various techniques such as metal fabrication, lost wax casting, raising, forging, stone setting, color on metal applications and numerous forming and surface embellishment processes. In addition, students have access to equipment such as 3D printers, laser cutters and CNC milling located within the Lamar Dodd School of Art and the UGA MakerSpace housed in the  Science Library which allows students to bend and blend traditional skills with new technologies as they execute and explore their creative works.
Other Academic Information
Student Organizations
Employment Information

Possible Job Titles

Possible Job Titles:

Jewelry/Metal majors have a number of career opportunities that allow for their continued artistic development. Some of these include education, self-employed artist/craftsman (private studio, galleries, small business, public and private commissions), industry (designer, jeweler), museum and restoration work.

Employers

Employers:

Students graduating from this program will possess the skill and ability to think creatively and solve practical problems visually and conceptually. They will also acquire the confidence and the desire to approach new technologies with creative perspectives. This degree will prepare the students to be professional artists or further their education into graduate school.

Recent Employers

Atlanta Journal-Constitution
Athens Magazine
Awaken the Arts!
BBDO Atlanta
Booth Western Art Museum
burton + Burton
Creative Marketing and Associates
FanDriveMedia
Hatch Snow Print
High Hirsch Bedner Associates
Mohawk Home
Morris Museum of Art
NCI
NKP Media
Pier 59 Studios
Renewal Design Build
Roswell Visual Arts Center
Southeastern Louisiana University
Starz Entertainment
Teach for America
Thrasher Photography & Design
WonderRoot
Young Athenians
ZoomWorks
Other Relevant Information

Research

General Research Information:

Please provide a general description of your research.