About this Degree
The goal of our department is to prepare students for the Interior Design profession.
Students are encouraged to develop a personal style in the area or the materials they specialize in. The B.F.A. candidate should achieve an insight into and an understanding of the nature of the materials they choose to work with. In most areas, students are required to present an exhibition before graduation that demonstrates their achievement in developing a mature and cohesive body of work.
 
What you will learn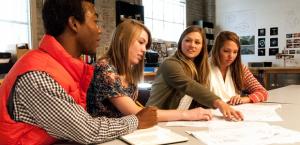 Students entering this field must be interested in, and aware of, the interior and exterior environment. They must be dedicated to planning the most functional and aesthetic interior spaces for all human purposes. They must have self-confidence, be self-disciplined, inventive, and able to work under pressure, and meet deadlines.
Students should be design-oriented. They must have the ability to express ideas by free-hand drawing, architectural drafting, computer-aided design (CAD), physical and electronic models, and other graphic media. They must be able to present their ideas visually and verbally. They should be knowledgeable and conversant in historic and contemporary architectural and interior design areas.
Most of our graduates are affiliated with architectural and medium to large-scale non-residential interior design firms. Others pursue careers in residential design. A significant number seek advanced degrees in interior or architectural design.
Other Academic Information
Student Organizations
Employment Information

Possible Job Titles

Possible Job Titles:

Interior Design is a service profession, dealing largely with people and their needs. The demand for design services has grown rapidly. With that growth has come a wide range of specialties in both residential and non-residential design.

Our graduates are pursuing active careers designing the following types of projects:

residences
offices
restaurants, hotels, spas and resort
health-related facilities
retail spaces
exhibits
places of worship
schools and college campuses
museums
theaters
government facilities
transportation terminals
even the interiors of trains, ships and airplanes

Employers

Employers:

Students graduating from this program will possess the skill and ability to think creatively and solve practical problems visually and conceptually. They will also acquire the confidence and the desire to approach new technologies with creative perspectives. This degree will prepare the students to be professional artists or further their education into graduate school.

Recent Employers

Alicia Mooney Interiors, Atlanta, GA
August Avery, Atlanta, GA
Blackdog Studio, Atlanta, GA
Bon Chérie Designs, LLC, Atlanta, GA
Bradley-Blewster & Associates, Chicago, Illinois
Bungalow LLC, Washington D.C.
Carl Vinson Institute of Government, UGA, Athens, GA
Cassidy Turley, Atlanta, GA
Clausen Chewning Interior Design, Atlanta, GA
Complete Bathrooms, New Zealand
Cooper Carry, Atlanta, GA
CSE, Atlanta, GA
Cullen and Company, Athens, GA
Dalton Carpet One, Athens, GA
Design Continuum Inc., Atlanta, GA
Design Coordinator at Chick-fil-A, Inc., Atlanta, GA
designproject, LLC, Chicago, IL
Dickinson Architects, Augusta, GA
Domino Magazine | Market Editor, New York, NY
E+E Architecture, Tulsa, OK
E+E Architecture, Athens, GA
E+E Architecture, Lawrenceville, GA
Ellis Design Group, Athens, GA
Ferry, Hayes and Allen Designers, Inc., Atlanta, GA
Geiger International, New York, NY
Gensler, Atlanta, GA
Gensler, New York, NY
George P. Johnson, Torrance, CA
Glazer Design & Construction, Athens, GA
Graham Field, Atlanta, GA
Green Living Designs, Atlanta, GA
Gresham, Smith and Partners, Nashville, TN
Gulfstream, Savannah, GA
Gulfstream Aerospace, Savannah, GA
Hendrick, Inc., Jacksonville, FL
Hendrick, Inc., Atlanta, GA
Hirsch Bedner Associates, Atlanta, GA

Hirsch Bedner Associates, Santa Monica, CA
Humanscale, Atlanta, GA
Italo Ceramica, Washington D.C.
Jacobs Engineering, Atlanta, GA
Jo-Ann Stores, Inc., Atlanta, GA
Jonas Workroom, New York, NY
Kemp's Dalton West Flooring, Newnan, GA
KMH Interiors, Atlanta, GA
Knickerbocker Group, Portland, ME
Koncept Design Studio, Atlanta, GA
Kristin Butler Design, Athens, GA
LeVino-Jones Medical Interiors, Athens, GA
LeVino-Jones Medical Interiors, Atlanta, GA
Lindsey Lane Design, LLC. New York, NY
Lotan Center for Creative Ecology, Chicago IL
Lyman Davidson Dooley, Marietta, GA
Maxwell High School of Technology, Athens, GA
Miller Architecure and Planning, Atlanta, GA
MSTSD, Atlanta, GA
Nitterhouse Masonry Products, LLC., Washington D.C.
PFVS Interiors, Atlanta, GA
Pierce & Co, Nashville, TN
Pineapple House Interior Design, Atlanta, GA
Preston Partnership, Atlanta, GA
Red Door Design Studio, Athens, GA
Rule Joy Trammell + Rubio, Atlanta, GA
Shop Design, Inc., Atlanta, GA
Steelcare, Atlanta, GA
The Orvis Company, Manchester Center, VT
Wakefield, Beasley & Associates, Atlanta, GA
Wendover Art Group, Atlanta, GA
Whitehall Interiors, New York, NY
Wolf Popper LLP, Atlanta, GA
Other Relevant Information

Research

General Research Information:

Please provide a general description of your research. 

Accreditation

Accreditation:

Council for Interior Design Accreditation
The Interior Design program in the Lamar Dodd School of Art is fully accredited by the Council for Interior Design Accreditation (CIDA), formerly known as FIDER. The program was initially accredited in 1984. It was re-accredited in 2013 for a term extending through 2019.
All potential students should note that graduation from a CIDA-accredited program is one of the pre-requisites for licensing of Interior Designers in the State of Georgia.

National Association of Schools of Art and Design
The program also is accredited by the National Association of Schools of Art and Design (NASAD).