About this Degree
The Graphic Design area in the Lamar Dodd School of Art prepares students to communicate ideas and experiences by integrating visual and textual content across various media. Graphic designers utilize communication tools such as computer images, symbols, logos, and typography to convey a message from a client to a particular audience.
Students pursuing the B.F.A. in Graphic Design at UGA should have a genuine interest in solving problems through visual communications that combine art and technology.  They must have an inherent sense of curiosity and inquisitiveness to solve graphics problems conceptually (both verbally and nonverbally) and are required to have an Apple Mac laptop for coursework; a digital camera is also recommended.  Courses include study of electronic design, layout, typography, photography, color techniques, three-dimensional design, graphic survey, illustration, and others. 
What you will learn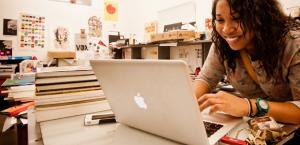 The Graphic Design program provides a broad course of study focused on developing effective visual responses to communication problems. Professional graphic design practice is diverse and dynamic; thus, we stress a strong grounding in design and communication fundamentals like typography, information hierarchy, concept development and visual exploration. We aim to broadly prepare students for creative lives and professions related to visual communication with a variety of courses that develop abilities in collaboration, build an understanding of audiences, and encourage experimentation across media. The program encourages an interdisciplinary approach to design and benefits from the broad offerings of a comprehensive School of Art and the greater University.
Other Academic Information
Scholarship and Award Information

Lamar Dodd School of Art Scholarships

The Lamar Dodd School of Art offers the opportunity to apply for competitive scholarships. The scholarships are open to full-time students majoring in any area of the visual arts who have completed a minimum of one year of study at the Lamar Dodd School of Art. Preference is generally given to students who will be juniors or seniors, but in the final analysis, a variety of factors are taken into consideration before a decision is reached. 
Student Organizations
Employment Information

Possible Job Titles

Possible Job Titles:

Graduates are prepared to accept professional positions in advertising agencies, printing and publishing industry, newspapers, design studios, television industry, manufacturing and other graphics-related fields. Employers are impressed by a portfolio which contains some examples of printed pieces from actual jobs rather than one which is made up only of school projects.

Recent Job Titles of Graduates

| | |
| --- | --- |
| Account Executive | Furniture Designer |
| Advertising Artist | Gallery Owner |
| Appraiser | Glass Blower |
| Architectural Model Maker Archivist | Illustrator |
| Antiques Dealer Art Administrator | Interior Designer |
| Art and Design Professor | Jewelry Designer |
| Art Buyer | Kitchenware Designer |
| Art Consultant | Label Designer |
| Art Critic | Layout Artist |
| Art Dealer | Mannequin Decorator |
| Art Director | Mechanical &Production Artist |
| Art Historian | Motion Picture Animator |
| Art Restorer | Muralist |
| Art Teacher | Paper Maker |
| Art Therapist | Photographer |
| Artist's Agent | Photojournalist |
| Assistant Curator | Printing Designer |
| Calligrapher | Product Designer/Illustrator |
| Cartoonist | Quick Sketch Artist |
| Ceramic Artist | Set Designer/Illustrator |
| Color Expert | Sculptor |
| Costume and Mask Designer | Stained Glass Artist |
| Creative Services Manager | Stone Carver |
| Exhibition Coordinator | Toy Designer |
| Fashion Artist/Designer | Web Designer |
| Foundry Artist |   |

 

Employers

Employers:

UGA Graphic Design graduates secure positions in a variety of creative positions in firms ranging from boutique design studios that focus on motion, experience or branding design, to the entertainment and publishing industries, to in-house creative departments for museums, apparel brands and digital companies. Alumni have secured positions at the following firms and companies, among others:

Recent Employers

| | |
| --- | --- |
| CNN | Aveda |
| IBM Design | Turner Broadcasting |
| Evernote | Son & Sons Marketing |
| Facebook | Gensler New York |
| Bustle.com | Pentagram Austin |
| Free People   | Metropolitan Museum of Art |
| Inc. magazine | Primal Screen |